Dental implants are tiny screws made of titanium that are inserted into the jawbone. The implant acts as an artificial tooth root. The implant functions as the root of the tooth, helping to hold the tooth in place. Once the implant is in place, we place a dental crown on top of the implant. The dental crown is custom designed to match the shape, size, and color of your natural teeth.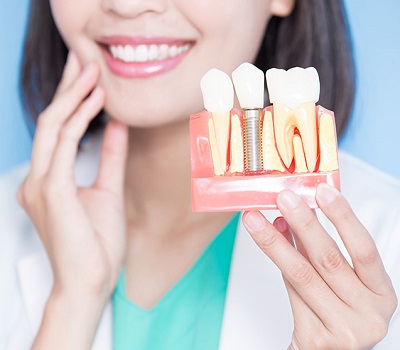 Dental implants are an excellent tooth replacement option because the implant replaces the missing tooth's root. This helps keep the bone healthy while preventing tooth loss.
How Is a Dental Implant Placed?
Our dentist will surgically place the implant into your jaw, just beneath the gumline. Over the next three to six months, the implant and the bone will fuse together. This creates a solid, permanent tooth root.
Next, we will uncover the abutment, which is a small metal post, and screw it firmly into the top of the dental implant. The abutment serves as the base for your new crown, which is custom designed specifically to match your smile.
Once the custom crown is in place, it will completely replace your missing tooth.
What Happens After Dental Implant Procedure?
After a dental implant procedure, it is very important that you follow your dentist's instructions. You should brush and floss your teeth, as usual, taking care to avoid the implant. You should schedule regular dental cleanings and checkups and alert your dentist if you have any questions or concerns.
What Materials Are Dental Implants Made Of?
Dental implants are made of titanium. Titanium is strong and durable, and it is a good choice for implants. The dentist uses titanium to anchor the dental implants into the jawbone and attach artificial teeth onto the implants.
Titanium is biocompatible, meaning that it is compatible with the body. It does not cause the body any adverse reactions.
What Are the Benefits of Dental Implants?
Dental implants offer many benefits over traditional teeth replacements, such as bridges and dentures.
Natural look: Dental implants are embedded into the jawbone just like real teeth. They'll appear and feel much more natural than dentures or bridges.
Easier to eat: With dental implants, you'll be able to eat any foods you enjoyed before you lost your teeth.
Easier to speak: Many people worry that removable restorations will make them mumble or slur their words. With dental implants, you can speak normally without worrying that your teeth will slip.
Dental Implants in Frankfort, KY And Louisville, KY
Signature Smiles is located in Louisville, KY, and Designing Smiles is located inFrankfort, KY. Call us at (502) 326-1800 or (502) 226-1900 and schedule an appointment to learn more about our dental services.